BUYING A HOME AT CONNINGBROOK LAKES

At Conningbrook Lakes we have three great products and services designed to make your home purchase as easy as possible - Moving Made Easy, Part Exchange and Help to Buy.
- MOVING MADE EASY -
Home to sell? No problem!
We've teamed up with Moving Made Easy to help you to sell your home quickly, easily and for the best possible price.

We'll even contribute towards your Moving Made Easy costs on selected plots**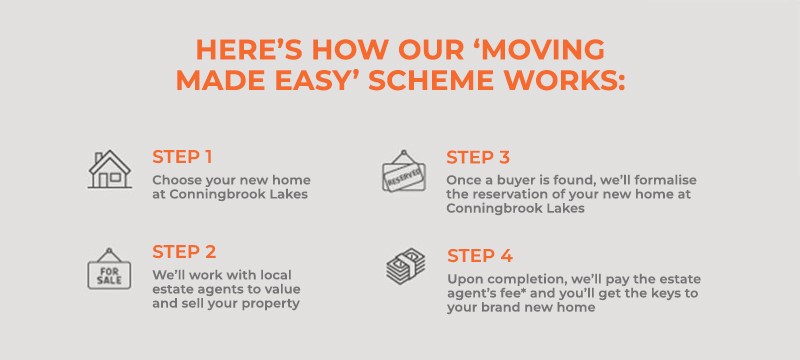 Speak to our sales team, or find out more at www.moving-madeeasy.co.uk
*Offer available on selected plots only, speak to a member of the sales team for more details
- PART EXCHANGE -
We've also partnered with PXS, a part exchange service designed to help you sell your property quickly, with ease and certainty, to reserve your new home stress free.
Part exchange is the sale of your home to a builder (or PXS acting on behalf of a builder), who act as a cash buyer; enabling you to purchase your new home without having to wait to sell your own, or for a lengthy mortgage process.
It means that when you find your dream home at Conningbrook Lakes you can reserve in the knowledge you become chain free, avoiding the stresses of arranging viewings and paying agent fees.
How does it work?
1) If you'd like to take advantage of the PXS programme, our sales team will be on hand to get the process underway.
2) PXS will instruct two estate agents to inspect your property and submit reports on its valuation, saleability and condition, they may also carry out a home visit.
3) They'll then conduct their own due diligence and market research before making an offer within five working days of your application. If you choose not to accept the offer, the file is simply closed. There are no fees.
4) If you are happy with the offer, an RICS structural survey will be conducted to confirm the value and condition of your property. 
5) Solicitors will be instructed to commence the legal conveyancing process, so you are able to reserve your new home, safe in the knowledge that your chain is complete.
6) PXS legally exchange and complete, in line with your new home purchase time scales.
7) PXS are then responsible for maintaining and selling your property and paying any associated bills whilst it is vacant. It does not matter how long it takes to sell or how much it eventually sells for; you can rest easy in the knowledge that you are not liable for any ongoing costs at all.
If you would like to know more at part exchange and PXS to sell your home, please speak to our sales team.